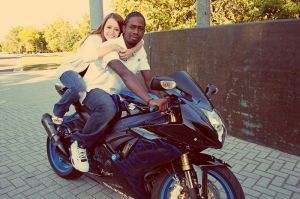 I met him on October 2009.   Antoine and I were both dating other people then, but there was something about him that caught my eye from the moment I met him.
We began to hang out more often.  There was something about him that kept drawing me closer to him.
After going on "friends-only" dates and spending nearly every day together, we fell head over heels for each other.  There was nothing that would get in our way.
 June 13, 2012 at 12:08 am was the day my world almost completely crumbled.  It was also the day that I realized that I was madly in love with Antoine.
 Prior to that fateful day, Antoine and I went on a mini vacation to Cedar Point on a motorcycle we bought a couple months before.  We planned on meeting up with a few other friends on their bikes, but ended up backing out last minute.
 The weather was beautiful and our hearts were set on Cedar Point for the day, so we called our friend's parents who were going to Cedar Point to see where they were. Luckily, they were just leaving home and agreed to follow behind the bike down to Cedar Point.
 The day was amazing, the lines were short, and within a few hours we had ridden on almost all of the main roller coasters. When the park closed, and after filing a report on Antoine's phone (He lost it on the Maverick.), we headed to the parking lot.  Antoine put the backpack and a few stuffed animals we had won in our friend's parents truck so there were less to carry on the bike.  I had to work the next morning, so Antoine dropped me off and then went to our friend's parents to pick up the things from their truck.
 Just minutes after Antoine dropped me off, my phone rang with a number I didn't recognize. This call was one I had nightmares about. A frantic stranger on the other line said, "Amanda?! Antoine was in a horrible motorcycle accident.  You need to come NOW! We are at Plymouth and Elmira."
 I quickly stopped getting ready for bed and ran out of the house, nearly forgetting my shoes. After thinking for a minute, I realized those streets did not cross! I then thought, "Where did he mean?".
 As soon as I turned off the side street to get onto Beech, I saw the lights of the EMS, a fire truck and several police cars, but there was no sign of Antoine, his bike, nor the car that hit him! The man who called me phone ran over and explained that the driver fled.  He turned right in front of Antoine after looking like he saw him and was going to wait.
 The emergency workers would not let me near Antoine as they quickly put him in the back of the EMS. A police officer asked me what hospital I wanted him to be taken to and for all his information. Antoine was not moving, talking, or anything!  Then, out of nowhere, I heard a familiar voice screaming my name.  It was our friend's dad who was at the gas station about ½ mile down the road and saw Antoine's bike was lying there.  So, he rushed to the scene.
I ran over to him sobbing and threw my arms around him.
 "It's Antoine," I screamed. "They are taking him to Botsford. He isn't moving nor talking, and they won't let me near him, and the guy who hit him took off!"
 Soon, the waiting room was packed with his friends and family. The wait was terrible!  Finally, the doctor came out and said that Antoine had been extremely lucky and was fine — overall.  I was the first to get to go back to see him.  As soon as I saw him I was relieved.  He was awake, in a hospital gown, and talking. He was in a ton of pain and kept saying "He tried to kill me, that guy tried to kill me."  After getting him to focus, he was able to describe what the truck looked like.  I then called the police to inform them of Antoine's description of the vehicle.  It was different from the witness' statement who had said it was a Trail Blazer.  The vehicle that hit him was a Silverado.
 The doctors released Antoine a couple hours later with prescriptions for the pain and swelling, cream for the road rash, and told him he sprained his left ankle, so he was given crutches to help him stay off of it.
The next day, the police called to tell us they found the driver who hit him.  It was a guy Antoine went to school with and who his aunt worked with. The driver was drunk, and after the accident, went home and parked the truck outside. The police saw the damage to the back side fender and found, arrested and arraigned him.
 Throughout this entire ordeal Antoine and I were each other's rock, back bone, and biggest supporters. The financial setbacks, disappointments, fear, and loss have driven us even closer and it was very clear that we were meant to be together forever.
In August, Antoine dropped hints for weeks about asking me to him (because he thought he was being funny) and that I would never do such a thing. Well…I did!! He was shocked! I bought a ring went down on one knee. Surprisingly, he would be shocking her more!
 We had to go to the mall to get his ring sized, since I really only bought it as a joke to show him how serious I was about marrying him.
 While there getting his ring sized, he walked me to the bridal ring counter and said, "Show me the one you like."
 There we sat trying on different rings. He pointed out the ring that I had been eyeing but didn't dare say she liked because it looked WAY to expensive — it was huge! It had everything I dreamed of — three diamonds, all princess cut, and all with the halo of diamonds along the outside of each main diamond.
 To say it was breath-taking would be an understatement.  I tried it on and tried so desperately to hide my excitement and love for this ring. She was too afraid to look at the price tag and quickly took it off to avoid completely falling in love with it.
We looked over several other rings and narrowed our choices down to three.  I left the final decision up to him. He chose THE one!
 As we were paying for the rings, I could not contain my excitement!   When the jewelry store associate handed Antoine the ring, he took my hand and slipped it on my finger.
 It is official, and we are getting married! Amanda had no doubt in her mind that she was by far the luckiest girl in the world; the man of her dreams standing in front of her and they are soon to be married.
"There has always been something about her that made her so different from all the other girls I've met and been around."
-Antoine
"He brings out my fun side and makes me forget others are watching."
– Amanda
Amanda & Antoine's Love Story
was last modified:
June 2nd, 2014
by